It's that time of year. Get your plow ready for the season. We have a special on our Annual Plow Inspection and Maintenance Service for $187. Call for details.
Our Annual Plow Inspection and Maintenance Service Includes:
Courtesy inspection (torque bolts, inspect for cracks and visible damage, check all lights, and verify proper operation and movement)

Fluid exchange

Verify appropriate ram movement and free of leaking seals

Electrical connection maintenance

Headlight adjustment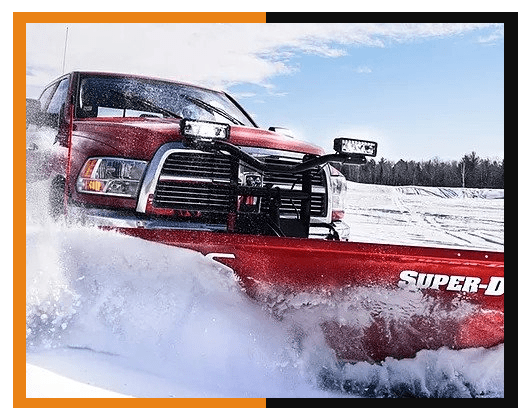 Why Choose John's 4x4 for Snowplows?
Boss Super Duty Straight Blade Steel Plow 8' - Combines a specialized blade curl with a heavy-duty push frame and quadrant for powerful snow plowing performance. With a special zinc primer and baked-on paint finish, this plow is also built to withstand corrosion, lasting through the worst weather that winter has to offer.
BOSS Standard- and Super-Duty straight-blade - These plows RESTORE ORDER with unsurpassed reliability and strength. Baked-on, powder coat paint finished with zinc primer resists corrosion. Heavy-duty push frames and push frame attachment bars, optimize blade curl and are standard on every BOSS straight-blade. And for added strength to take-on nature's worst, BOSS Super-Duty straight-blades boast reinforced moldboard for increased blade rigidity and increased durability.

Heavy-Duty Push Frame and Quadrant designed for additional strength and durability.
Enclosed High-Performance Hydraulic System delivers speed and reliability and is protected from the elements to prevent corrosion and hydraulic freeze-up.
Chainless, Hydraulic Cylinder Lifting System virtually eliminates snowplow "bounce" associated with transporting a plow.
Full Moldboard Trip Design allows the entire blade to tip forward when obstacles are encountered to protect the truck and plow from damage.
A big part of living in Colorado is being prepared for the winters. At John's 4x4 in Boulder, our mission is to give you everything you need to quickly and easily remove snow from your home or business so you can get back to business! We offer both Boss and SnowEx snowplow equipment to help remove snow from driveways, parking lots, and sidewalks. Our snowplows will fit on your truck or your UTV, we carry smaller snow plows and large ones.
At John's 4x4 in Boulder, our snowplows can handle the snow, ice, and everything in-between. Our snowplows are easy to take on and off and work seamlessly with your snow removal vehicle. Ruggedly designed for personal, as well as commercial use, the snowplows you'll find at John's 4x4 can meet both your demands and the demands of the elements.
SNOWPLOWS MAKE YOUR LIFE EASIER 
Allows you to plow driveways and sidewalks quicker and easier.
Saves you money when you have to close due to snow removal issues.
Can sleep in more in the mornings since snowplows are super efficient.
Less physical work on your part, which is important if you are a senior.
Less time in the cold.
More time to do more pleasant activities, such as sip hot chocolate by the fire with a cat on your lap and book to read.
Does a better job with no missed spots.
Plow on your schedule, not on others.
Stay compliant with sidewalk clearing and parking lot clearing laws.
Help others in your community and neighborhood by snowplowing with your extra time.
Snowplows just make your life easier. You'll have extra time to do other, more important things in life, like have coffee with a friend or help your elderly neighbor with her snow removal needs. Snowplows offer the gift of time. Get your gift now at John's 4x4 in Boulder!
We are an authorized SnowEx and Boss Dealer!