Where fun meets passion and professionalism...
We believe in bringing AWESOME everyday to everything we do.
What does bringing AWESOME everyday mean? It means:
Living our values
Helping make our community a better place
Bringing a smile, or better yet...excitement to our customers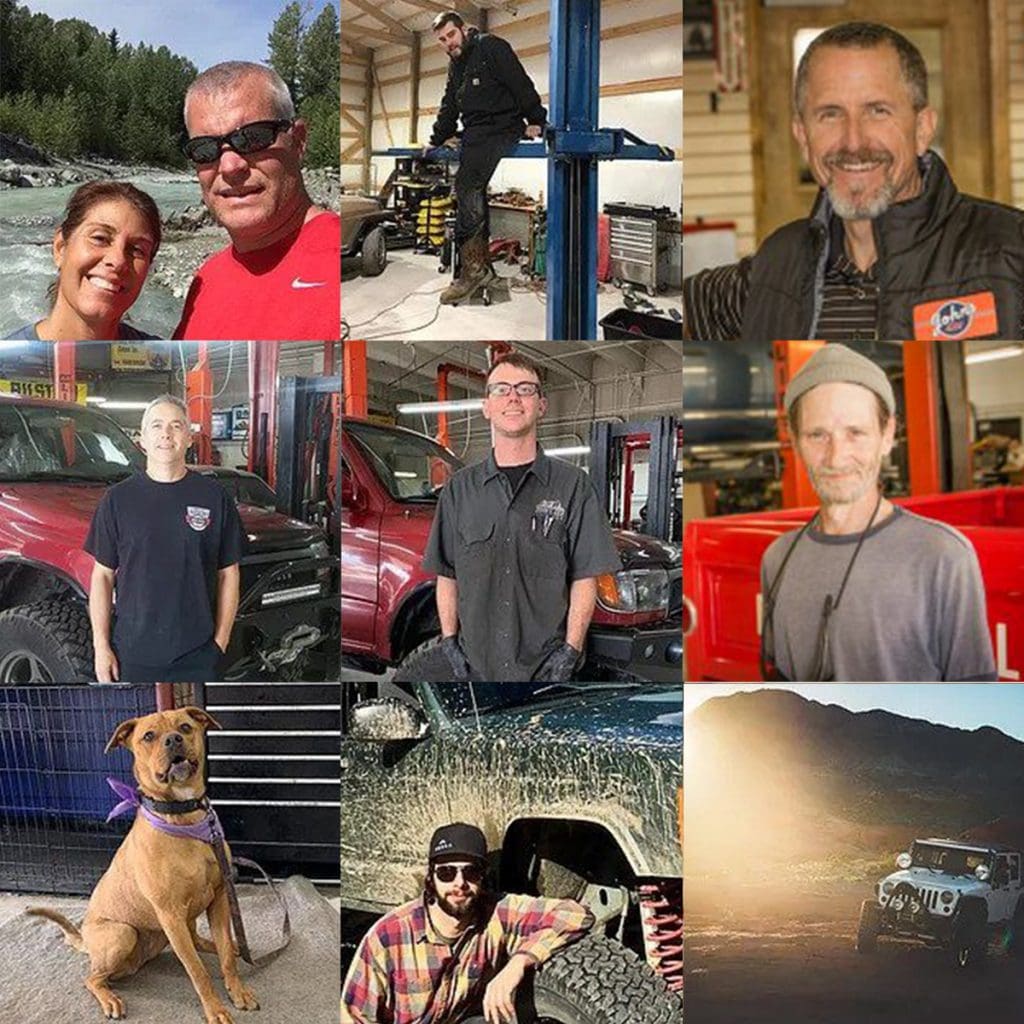 Kevin
Owner / Operator
Owning a small business, connecting with a community, and living a passion. American dream? For Kevin it is.
​Married to Michelle, 2 awesome kids that are grown up, can be found enjoying outdoors, a craft beer, and an auto restoration. Favorite vehicle...just too many! Currently has a custom Tj Wrangler and a supercharged mustang to play with.

Austin
Owner / Tech
Austin is here to continue his passion for cars. He works both as a service advisor and tech. His passion all started when he was knee high helping dad hold the flashlight. A lover of all cars but more importantly the build. His love is fabrication and building old cars with a modern twist. Check out his current build on instagram of his Jeep Comanche with an LS swap, custom axles and interior!

Kevin
Service Advisor
Kevin is the friendly face you will see when you arrive at John's 4x4. He lives in Colorado because he loves to go hiking and biking and we all know this is the best place to do it. He has been in the automotive industry for over 15 years. His dream car is a 1967 Corvette with a 427 under the hood. Kevin is the first face you will see walking into our shop & he'll give you a great experience.

Dean
Shop Manager
Dean is a genuine colorado native and true local to Boulder. He has worked in the industry for 25 years & is an ASE Master technician. In his free time, Dean enjoys listening to music and going off-roading. His grandfather, Joe, is well known in Louisville for owning The Blue Parrot Italian restaurant. His current rig is an XJ Cherokee with 37's, 1 ton axles and its Supercharged!

Austin
Tech
Austin is a Colorado Native, born and raised in Boulder. He went Aims Community College for two years to study automotive repair & learned body work during his year at Boulder Tech. Austin likes to go four wheeling, fishing and shooting in his free time. His favorite place to go fishing is in the stream or the river. He says that lake fish are too lazy. Austin's dream car is a gun metal grey with black racing stripes 1968 Chevelle with a 454.

Buddy
Shop Maintenance
Buddy is one of our shop's greatest assets. His hard work creates a shop environment everyone enjoys. Buddy is originally from the east coast, but has lived in Colorado for a long time. He is extremely knowledgeable with fixing computers & has a background in custom programming. He is an avid reader and mostly enjoys science fiction. He loves 4 wheeling, hiking, biking & fishing and knows the Boulder paths by heart. His dream vehicle is a Jaguar or a custom 4 wheel driving camping van.

Lexi
Shop Dog
Lexi is Austin's (technician) dog and spends everyday in the shop helping keep workflow moving (her way!) and keeping morale high.

Jim
Tech
Jim moved to Colorado for adventure...be it mountain biking, hiking, rock climbing, or just hitting the trail with his Jeep XJ. Jim takes pride in his ability to fix and understand any issue on his Jeep and can't wait to do the same for each of our customers.

TBA
Tech
Yes! We are Hiring Techs. If you have a passion for 4x4's or anything automotive and believe in customer service and our purpose...come see us.