To earn your trust by always doing the right thing, being transparent, and doing our best to make a personal connection with you.
 - John's 4x4 Offroad & Repair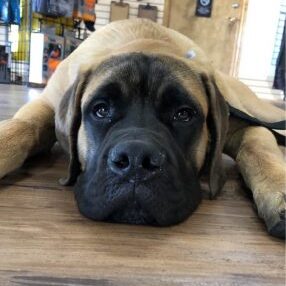 The Colonel
(1 of 2 shop dogs)
All suspension lifts installed by a John's 4x4 offroad shop come with the security of a "no questions asked" 3 year / 36,000 mile warranty.
Our warranty covers all original purchaser's of one of our suspension lift kits:
Parts:
If it breaks, we will replace it.  All lift components we install have a "no questions asked" 3 year / 36,000 mile warranty (which ever comes first). The only exception are shocks and steering stabilizers.  These come with a 1 year limited warranty.  A shock absorber is a wear item and over time will experience diminished damping resistance due to normal component wear. This is not a defect in material or workmanship and is therefore not warrantable.  Shock oil seals are subject to wear over time, and use. Therefore are not covered under warranty. However, leaking shock seals less than one year from date of purchase, free from contamination, damage, or abnormal seal wear due to misuse can be considered for warranty.  Wheels and tires that may compliment a suspension lift are not warrantied.
Labor:
The labor associated with replacing a broken or defected part will be covered by us for 3 years / 36,000 miles (whichever comes first).  If the vehicle is within 100 miles of a John's 4x4 Center, then the work must be performed by John's 4x4.  If the vehicle is greater than 100 miles from a John's 4x4 Center, then we will pay a repair shop's posted labor rate to have the part replaced.
We are a Napa AutoCare Center and 4x4 repair shop.  This means we:
Cover Parts and Labor on Qualifying Repairs and Services for 24 Months/24,000 Miles.
There's no greater peace of mind® than knowing you have one less worry by having your vehicles serviced by us.  We stand behind our work with the NAPA AutoCare Peace of Mind® Warranty.
This warrnty is honored nationwide by thousands of NAPA AutoCare Centers, so you're protected even when you travel.
Claims not covered under warranty:
Parts subject to normal wear; this includes bushings, bump stops, ball joints, tie rod ends and heim joints.
A product's finish after 90 days.
Damage caused as a result of negligence or abuse beyond manufacturer's intent and design.