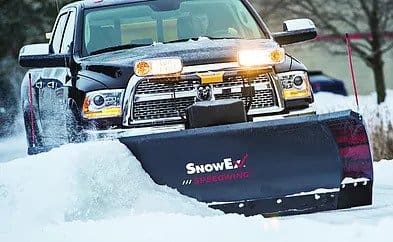 Regular-Duty
For personal plowing, or light-duty commercial snow plowing jobs utilizing half-ton pick-ups, the SnowEx® 7600RD and 8000RD are engineered to meet vehicle weight ratings and deliver excellent performance. Built with stronger and lighter high-strength steel, the units are ideal for tough conditions while putting less stress on your truck than heavier snow plows.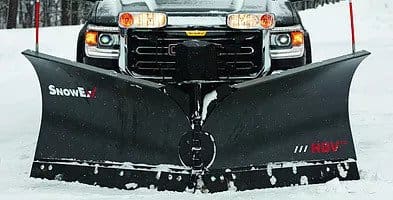 Heavy-Duty
For commercial contractors outfitting larger vehicles, only a heavy-duty snowplow will do, the aptly named SnowEx® Heavy-Duty Series fits the bill. Powering ahead and rolling heavy snow farther with a 31"-tall steel blade, these plows feature a formed base channel that delivers extra stability. While vertical ribs, two angled Power Ribs and massive quad design provide added strength to prevent the blade from twisting, even under the most punishing winter conditions.
Heavy-Duty Construction
 Exceed Your Demands
Tough enough to handle the most demanding conditions, the HD Series brings more brawn to plowing. Six vertical ribs, two angled Power Ribs, and a massive quad design provide added torsional strength to prevent blade twisting even on the harshest and most punishing jobs.
Tubular Steel A-Frame with Large Center Pin
Durability Matters
The rugged A-frame is constructed of tubular steel to provide the strength necessary to take on tough plowing conditions.

Large center pin delivers durability.

Robotic welding ensures consistent strength throughout the headgear.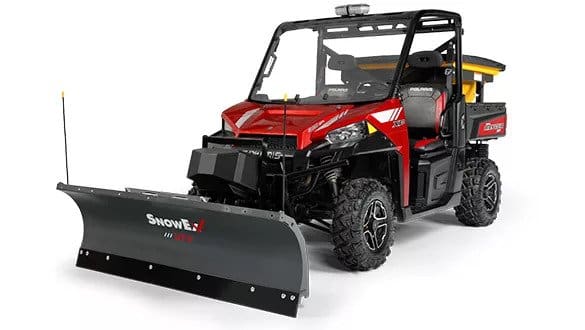 UTV Straight or V-Blade
Give your utility vehicle professional-grade plowing performance by adding the SnowEx® UTV Straight Blade. The plow's heavy-duty, yet lightweight, design allows it to handle snow-covered sidewalks, paved walkways, and other tight areas with ease.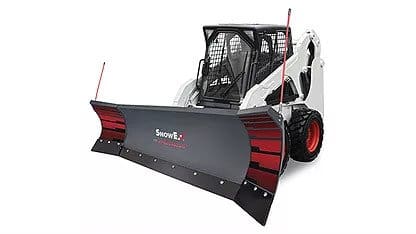 Skid-Steer Plows
Get more out of your skid-steer with a SnowEx® Heavy-Duty straight blade snow plow or a versatile SPEEDWING™ snow plow with automatically adjusting mechanical wings. Attaching quickly to any brand or style of skid-steer loader, you can turn another vehicle already in your fleet into a snow removal hero with no additional wiring or controls.