Jeep Buyers Guide – Stuff to think about!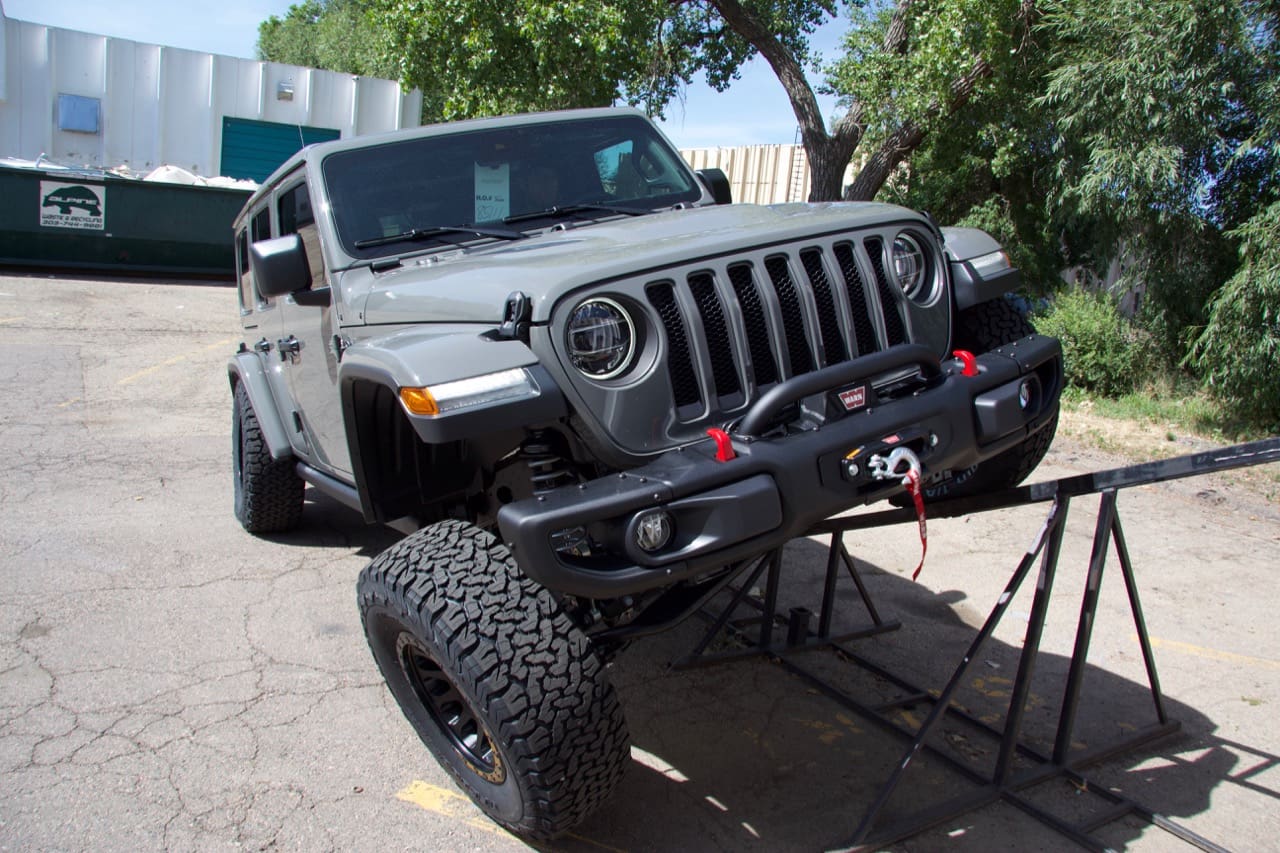 It is really exciting when you are considering buying a Jeep. Jeeps bring thoughts of freedom (to explore), nostalgia from childhood, or just because you have always wanted one. Jeeps are amazing vehicles with lots of capability, models, and options. Unfortunately, used ones come with some wear and tear.  People use Jeeps on surfaces that are not kind to steering and suspension parts. We also tend to lift them and some lifts are not done appropriately or just simply put more wear on other components. Because of this, it is really important to have a used Jeep inspected before you buy it. While you can expect some normal wear and tear (that require repairs), it is important to know how much is needed before you make an offer. This article is intended to help you find the right jeep and lift considerations, but it is not intended to be gospel. Leveraging all sources available and use of common sense is required!
First, let's start off with understanding your needs.
How will you use the jeep?  
100% commuting on regular roads? 80-90% commuting with the occasional trail? Daily driver but want to take it on slightly more aggressive trails or to Moab?  Second vehicle that you will primarily use on trails (and those trails can range from moderate to rock climbing)?
Understanding what you will be using the Jeep for is really important as to what year, model, and options you look for. Of course, budget is a huge factor too! We will talk about that another time. Your answer above maybe something like…"I don't know yet. I want to drive it on normal roads and start to play in the offroad space (and build what I need as I go)". That is a perfectly acceptable answer!
Super quick guidelines:
Want to commute and feature/function is important?  Then you will want a JK or JL.  JL's will offer the best options for you, but at a higher cost.

Want to custom build a jeep for offroad and don't want a huge up front cost of a Jeep – then go TJ or older model JK (beware of of older JKs with 3.8L engine – more on this another time).
Other than that…money and personal preferences will drive your decision.  We can help you understand some of things you might want to consider.
Which model is right for me?
There are two big considerations:
Rubicon versus other models

JK versus JL
Let's start with Rubicon versus other models.  Other models may consist of Sport, Sahara, SE, Base, and others. While there are exceptions like Recon and Sport S, we will provide general guidance and not get caught up in nuances.  We will also primarily focus on axles when discussing the differences. Why? Because this is were trail functionality and some of your biggest costs reside. We will also only look at TJ and newer Jeep models.
Common Axles.  Note: some years and models had axle options to unpaged to a Dana 44 in rear.
| | | | | | | |
| --- | --- | --- | --- | --- | --- | --- |
| Model | Years | Front Axle | Rear Axle | Gear Ratio | Locker | Sway Bar Disconnect |
| TJ – Rubicon | 2002-2006 | Dana 44 | Dana 44 | 4.10 | Front and Rear | No |
| TJ | 1997-2006 | Dana 30 | Dana 35 | 3.73 or less | No, LSD Optional | No |
| JK – Rubicon | 2007-2018 | Dana 44 | Dana 44 | 4.10 | Front and Rear | Yes – Electric |
| JK | 2007-2018 | Dana 30 | Dana 44 | 3.73 or less | No, LSD Optional | No |
| JL – Rubicon | 2018-Current | Dana 44 | Dana 44 | 4.10 | Front and Rear | Yes – Electric |
| JL | 2018-Current | Dana 30 | Dana 35 | 3.73 or less | No, LSD Optional | No |
Special Notes:
JK and JL shared the 2018 model year.  If looking at 2018 Jeep Wrangler, make sure you understand which model.

JK over JL non rubicon – JL's have smaller rear axles than the JK did.

LSD = limited slip differential
JK and JL Rubicons give you lots of awesome features and trail capabilities:
Dana 44 front and rear with 4.10 gears and E Lockers

Crawl control

Offroad Transfer case giving better crawl ratio.

Small 1" lift over other models.

Better Fenders allowing larger Tires.

Push button electronic Sway bar disconnect allowing more articulation
Important takeaway's:  
Locking differentials give you more traction (both tires on a locking differential spin).  If you articulate and get a tire off the ground, the other tire will still spin and give you better traction.

Sway Bar Disconnects give you more articulation.  This gives you a higher chance of all 4 tires contacting the surface which means you have better traction.

Bigger gear ratio's allow for bigger tires and reduces the amount of "power loss" feel.  Many jeeps like the Sahara came with a 3.21 gear ratio. If you lift it and put 35" tires on the jeep, you will feel a drastic loss of power.  Re-gearing to 4.56 ratio is recommended.

Now, let's briefly touch on some of the key differences of a JL versus JK.  The JL was almost a total re-design and makes the JL a better commuter or daily driving vehicle.  The JL provides:
Better Interior

Better infotainment system

Improved steering system (electric assist)

Interior noise levels reduced

Additional engine options: turbo charged 2.0l 4 cyl.  Hybrids and diesels coming.

And most noticeably an 8 speed automatic transmission. This tranny gives the feeling of more power due to its gearing. It also allows for larger tires without the need to re-gear as you would a JK.  Our rental JL has 37' tires stock gears and it can do a burnout on dry pavement and with low range 4×4 it has plenty of crawling power while offroad.  The Transmission alone saves you a whopping ~$3,000 instead of re gearing when you install larger tires (up to 37").
Should I get a hard top or soft top equipped model?
If you can afford it, we recommend both!  Some quick differences:
Hard tops – Winter and road noise is better with a hard top. New models are equipped with a modular hard top and allows you to take parts of the top off to get the fresh air you wanted with a jeep.  During the summer you can remove the hard top and just go topless.  Just be thoughtful of the weather (rain can damage internal components).   Hard tops are heavy and usually require a storage accessory to lift and store in a garage.

Soft tops – the most flexible option and helps ensure you protect internal components at the spur of the moment (don't want fish air or mother nature throws a curve ball).  They are easier to operate (lower/remove) because they ar flightier and take up less storage room.  Soft tops will offer more noise going down the highway (wind noise).  They also will need to be replaced eventually (material and use cause this).
John's 4×4 offers Jeep accessories to make your jeep the way you want it.  Our service advisors will help you find exactly want you want and get you scheduled for an install.
You have an idea of what model you want to buy; now let's talk about common issues you can find on used Jeeps and why a pre-purchase inspection is so critical.
Common Symptoms:
Memory steer or "wondering"

Rough ride

Clunking Noises and vibrations

Leaks
Issues that contribute to the above symptoms:
Worn parts:

Ball Joints

Tie rods

Control arms

Track bar

Steering Gear

Bad Alignment

Aged shocks, poor suspension components, and possible installation issues

Bad drivel angles, failing U-joints, failing gears in differentials

Damaged gaskets and seals (ie. Axle seals, pinion, seals, crankcase seal, valve cover, etc
We highly recommend you get a
pre-purchase inspection
done on the Jeep by a professional
4×4 shop
that specializes in Jeeps.  Repairs can be expensive and will impact your over-all cost of buying that Jeep you so badly want.
Okay, so you found a good Jeep.  Now, let's get to the fun part.  Building you Jeep!
What questions might you ask or things you want to consider.  These are just some high level areas and not everything by any stretch of the imagination. We advise you to consult with a reputable 4×4 shop.
If you plan on offroading, what size tire and wheel do you want to run?
We typically recommend staying with 17" wheels for added tire sidewall and better offroad performance. Larger wheels do not perform well on or offroad.
How big of a tire size is too much for my Jeep?
Depends on use. Without a locker and with safe driving, 35" tires are acceptable. However with lockers and aggressive driving, 35's could damage the axles, especially the front.  This is why a Rubicon is amazing with the drastically larger dana 44 front axle with lockers you can safely run 37" tires with safe driving. Theres always someone who can push the limits and break or damage the axles.  For the most part anything past 37" will require more modifications, such as, Dana 60's and hydraulic ram steering.
Note, the bigger the tire, the more likely you will need to re-gear your axles to maintain the right levels of performance – on and off the road.
What kind of lift is best for me?  What things should I consider?
Lift size is usually driven by the size tire you want to put on the jeep and what model/year of Jeep you have.  Older models require more lift to accommodate bigger tires.  Rubicons can accept larger tires than base models.
Other components that impact what kind of lift is best:
Control arms

Front and Rear Track Bars

Coils (and spacers – ugh)

Shocks

Steering stabilizers

Sway Bar Disconnects

Spare Tire Carrier

Ball Joints

Let's briefly touch on each one of the components:
Control Arms – Control arms center the axle forward and backward under the vehicle. They also control the alignment of the vehicle, as well as, driveline angles.  They come in fixed and adjustable versions, as well as, different lengths (short versus long).
We typically stay at 2.5" of lift on stock control arms if alignment bolts are used. To maintain proper alignment and keep death wobble away.

Short arm lift kits are good for 3.5" of lift if adjustable for alignment and driving characteristics (ie. going down the road straight without death wobble).

Past 3.5" we recommend "long arms". Long arms reduce the angle and correct geometry for a large lift. They also articulate extremely well. For ride quality and offroading purposes, long arms are a huge improvement, but cost more to install due the additional labor needed to relocate the attach points.

Adjustable upper control arms are mainly used to allow adjustment of the pinion angle or driveline angle. Too little or large of an angle can cause vibrations and joint replacement intervals will be smaller.

Most commonly replaced are the adjustable lower control arms to center the axle under the vehicle.  When you lift the vehicle, the geometry changes and pulls the stock length arm backwards towards the rear of the fender well.

Typically, the more adjustment you have the better (but not always required). If you have all adjustable arms, we can actually set wheelbase and have the ability to get the vehicle to drive better than factory.
Track Bar – Like a control arm but for horizontal adjustment. The track bar centers the axle under the vehicle side to side. There are two – a front and a rear track bar.  One end of the track bar connects to the frame and other end to the axle on opposite side. Think about if one tire on the passenger side sits further outside the wheel well then the driver's side. This vehicle may need an adjustable track bar or further adjustment on an existing adjustable track bar.
As you lift a vehicle the track bar's geometry changes and due to its angle it pulls the axle over to one side This can cause dog tracking where both axles are off-centered and drives diagonally.  You may have seen this driving behind someone…it looks very odd.

Stock Track bars are weak! Time and time again we see stock track bars that actually flex and bend under normal driving. We recommend a heavy duty replacement that is also adjustable. Our favorite is the Rubicon Express Forged track bar for JK, JL and JT that offers a lifetime warranty and has adjustment between 0 and 6" of lift. Remember stock height jeeps are not free from needing this.

Some track bars have bushings (versus Heim joint) and these bushings can wear, dry up, and bust apart.

The Rear Track bar is usually strong enough to just use a drop or relocation bracket to correct geometry. While adjustable is always better, most of our lift packages include a relocation bracket.  However, a huge problem occurs if you use an axle side relocation bracket. This taller mount puts added stress to the original mount and actually rips off the track bar mount from the axle leading to a very dangerous and un-drivable vehicle. We always recommend the frame side relocation mount because it bolts to the frame with more bolts and the frame is much stronger.  We have never had an issue with our brackets. But we also only use those for 2.5" and 3.5" inch lifts.
Shocks – Their main job is to absorb impacts and help maintain control of the vehicle. Shocks connect from frame to axle and have a finite length of travel.  Collapse and extended lengths are critical for knowing the right application when lifting the vehicle.
Shocks typically last 50-70k miles.  If you offroad a lot, they will not last as long because they are working harder for you.  Any oil leaks indicate a bad shock, but even if they aren't leaking, they may have internally failed.

Stock shocks on a lifted vehicle are not recommended.  While they may be fine during street driving (depending on size of lift), but they will cause problems offroad.  If the suspension articulates, the shocks will over extended or bottom out causing damage to them. Poor ride quality will also be noticed.

If you choose the wrong shock, they can limit the amount of suspension travel and not allow you to achieve the articulation you wanted (and spent money for!).

Shocks come in mono-tube single shock applications, some have piggy-back or remote reservoirs to increase cooling and performance, some have adjustability, and shock body sizing  varies (2.0, 2.5 or larger).  The money you spend typically determines performance (ride quality, longevity, etc).  The right application is very important.
Coils – these components raise your vehicle off your axles.  When you want a lift on your jeep, you typically replace and achieve the desired height with coils.  Lift Pucks or spacers are also an option, as is, a body lift.  We do not recommend spacers or body lifts.  Lift spacers can be OK if used and supported appropriately. Unfortunately manufactures say they will work great for the vehicle with no other supporting modifications. Unfortunately this is not the case. We just recently experienced this with the new JT Gladiator Jeep pick-up.  Manufacturers offer a spacer to level the front end out. They claimed it wouldn't need other modifications. However, after installing we needed to add sway bar links to correct the sway bar geometry and prevent rubbing of suspension components.  We also needed an adjustable track bar. Without the adjustable track bar the sway bar links were out of alignment and the axle was off-center by over an inch!  Our trusty Rubicon Express Forged Track bar was the perfect solution for this.
Coil replacement alongs with shocks, track bar and sway bar end links offer the best lift options and height.

Typical lift options are 2.5", 3.5", and 4.5".  Of course, there are many options and variations.  Lift height also dictates control arm needs as noted above.

Progressive rate or multi-rate springs are designed to be soft where you want it and firm when you need it for ride comfort and articulation benefits. Our JK rental has these equipped and rides phenomenal. Progressive springs from Rubicon Express are the same cost as traditional…you just need to know to ask for them.  At John's 4×4, we always recommend them where available.

Spacers are typically used for leveling and not for most jeep applications. We do not recommend spacers on Jeeps.
Steering Stabilizer – This is a dampener for steering components. Factory units are very tiny and work okay for stock tires.  With larger wheels and tires,  a heavy duty shock is recommended and required to dampen steering components. A bad dampener could result in death wobble.  We have come to find that the OME steering dampeners are the strongest and eliminate any problems with a steering dampener without the need for dual stabilizers.  Fox also offers a good damper for the JL.
Sway Bar and End Links – The factory sway bars are usually maintained when doing a lift.  However, as you lift the vehicle the geometry changes and end links need to be extended and corrected to prevent suspension rubbing and maintain appropriate handling characteristics.
End link extensions are common when lifting a jeep.

Quick disconnects for non-rubicon models allow you to disconnect sway bar from axle to allow suspension articulation when offroad. You will need quick disconnects to separate the end links from the axle or sway bar to allow for max articulation. These are commonly adjustable as well.

Make sure the sway bar is not pointing downward.
Spare Tire Mount – either a relocation bracket or full mount replacement is required for larger tires.
Stock jeep tire mounts can "handle" a 35" tire, but require a relocation bracket to clear bumper.  We recognize that this can be pushing the limits of the factory mount especially if you offroad a lot.

Anything past a 35" is putting too much stress on the factory spare tire mount. We recommend a braced unit to handle the weight and fit the larger tire on there.  There are replacement units that use the tailgate methodology that work well and eliminate the need to swing a separate bumper mounted swing gate out.  More convenient for sure.

Many aftermarket bumpers offer a spare tire carrier for larger tires. It does drive up the cost of a bumper, but so does a factory replacement tailgate tire carrier.  It just depends on use of jeep, size of tire, and preference.
Ball Joints – These are the joints that allow your vehicles front wheels to turn as they mount the steering knuckle to the axle.  Unfortunately, stock units are weak and it's not uncommon for use to see a JK jeep with low mileage miles on it need ball joints (especially if the vehicle has been offroad).  We recommend heavy duty upgraded joints with camber and castor adjustment for alignment purposes. Usually jeeps have some camber that can only be solved with an adjustable joint.

Other big items you will want to consider when building you jeep (based on use):
Recovery Gear

–  The best recovery gear is offloading with a friend and a second jeep or 4×4 vehicle.  When that is not possible, then equipping your Jeep with the best gear is critical.  See our articles –

Tools You Need Offroad

(parts 1 and 2).  Recovery gear includes things like:

Bumpers and winches

Traction boards

Straps and snatch blocks

Tools

CBs

And much more

Gearing and Lockers

– as discussed above, gear ratios enable you to run bigger tires and have better crawl capability.  Lockers provide better traction.  It is best to tackle gears and lockers at the same time because you are making these upgrades in the same operational area – the differential.  Labor costs will be less when you do these at the same time.  See our webpage –

gears and lockers

.

Axles (shafts and assemblies) – for more extreme applications or when you have to rebuild smaller / less durable axles, it may be time to upgrade.

Geez, we talked about a lot.  We are hoping this was helpful for a first time buyer and builder.  Our intention was to give an overview and understanding.  We did not intend to educate you on every model, aspect, or consideration.  We will help you do that in person once we get to know you and your Jeep (or the one you want).  We are here to help…come to see us!

John's 4×4 – a 4×4 outfitting and installation shop that also offers repairs and inspection services. We specialize in Jeeps, but are extremely knowledgeable on most 4×4 models equipped with solid axles or independent suspensions. We love what we do and our 4×4 mechanics are here to help you.