Jeep 4×4 Rentals In Boulder, CO
Check Out Our Fleet And Choose Your Jeep!
Have you ever wanted to hit some of the gnarly Rocky Mountain trails in an off-road-worthy vehicle, but haven't had access to a rig that can do it? Satisfy your desire to go 4×4'ing with the help of our convenient Jeep rental service in Boulder, courtesy of John's 4×4.
Our Jeeps are fully built and trail-ready; they're even equipped with heavy-duty winches! Whether you're trying to impress your date, take visitors to breathtaking sites in the Rocky Mountains, or simply put your off-road driving ability to the test, our off-road rentals are ready when you are.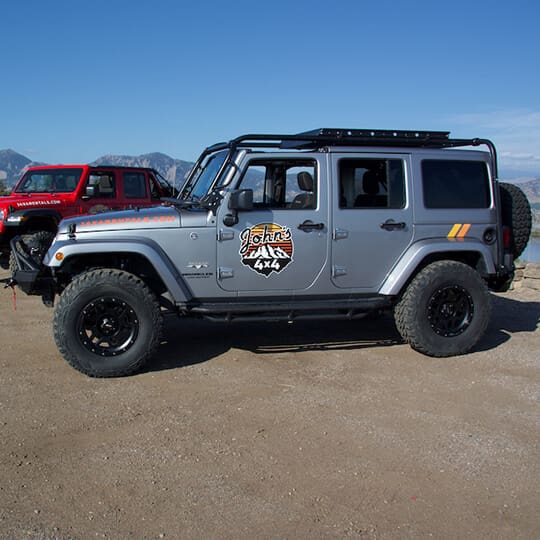 2017 Jeep Wrangler Sahara JK (Silver Jeep)
Our Sahara JK is a great option for those looking to adventure on lighter, less technical trails — if you're an off-road first-timer, this rig will do you and your group just fine. Compared to our Rubicon, the Sahara is a softer, more comfortable ride due to its 2.5" Progressive Rate Spring Lift. 
But despite the relative comfort in the Sahara, don't underestimate its capability. It's a beast of a rig and it will handle many trails with ease! 
Specs: 
Rubicon Express 2.5" Progressive Rate Spring Lift. (Progressive Rate Springs give a softer ride)

Rubicon Express Remote Reservoir Shocks

Rubicon Express Super Flex Fully Adjustable Short Arm Control Arms Front and Rear Uppers and Lowers

Rubicon Express Sway Bar Disconnects

Rubicon Express Forged Heavy Duty Track Bar

OME Heavy Duty Steering Dampener

ProComp Wheels

35" ProComp Mud Terrains

4.56 Gearing

2018 Jeep Wrangler Rubicon JL (Red Jeep)
The word "Rubicon" is commonly slapped onto stock Jeeps, but the name holds an off-roading prestige of its own. Named after the iconic Rubicon trail in California, these Jeeps come trail-ready in accordance with their off-road pedigree. But of course, a stock Rubicon wasn't enough for us to offer you a proper off-road Jeep rental.
That's why we've outfitted this Jeep with a 3.5" Rubicon Express Coil Lift for supreme clearance to tackle some of Colorado's most demanding trails. This bad boy also features a 4:1 transfer case for low range rock crawling, an essential feature when you're truly putting your driving skills to the test.
Specs:
Rubicon Express 3.5" Coil Lift (4.5" on non Rubicon Models)
Rubicon Express Fully Adjustable
Extreme Duty Long Arms Front and Rear
Rubicon Express 2.5 Series Shocks
Fox Steering Dampener
Electronic Lockers Front and Rear
Electronic Sway Bar Disconnects
ProComp Wheels
37" ProComp Mud Terrains
4.10 Gearing
8 Speed Transmission
4:1 Transfer Case For Low Range Rock Crawling
John's 4x4 Jeep Rentals — Where Will You Go? 
Life is too short to miss out on exploring the stunning Rocky Mountains and network of trails right in our backyard. Our fully-built, trail-ready rigs can take you to that dream camping spot or hiking trail, give you a taste of the true off-road experience, and take you to epic vistas that you could never reach in a standard vehicle. 
At the end of the day, we've worked hard to outfit our Jeeps with the latest and greatest upgrades to ensure that even the most novice off-road drivers can experience what we love most: getting outside and exploring!
A Note On Safety
John's 4x4 is proud to help the community connect with the outdoors through our 4x4 Jeep rental service. However, it's important to note that off-roading is inherently dangerous (but totally enjoyable when practiced safely). The possibility of rolling over, bottoming out, or causing extensive damage to your Jeep is very real, and you don't want to be stranded out on a trail with no cell service and a way to call for help. 
You'll find that other off-roaders on trails, should you encounter them, are very nice people willing to help you out. But it's important to know exactly what you're getting into and how to navigate trails safely and effectively. 
These resources will be very helpful in making sure that you're trail-ready: 
Ultimately, our goal is for you and your group to have a safe, fun, and epic adventure exploring the beautiful Rocky Mountains. If you have any questions, please
contact
us in Boulder or
book your Jeep rental today
!